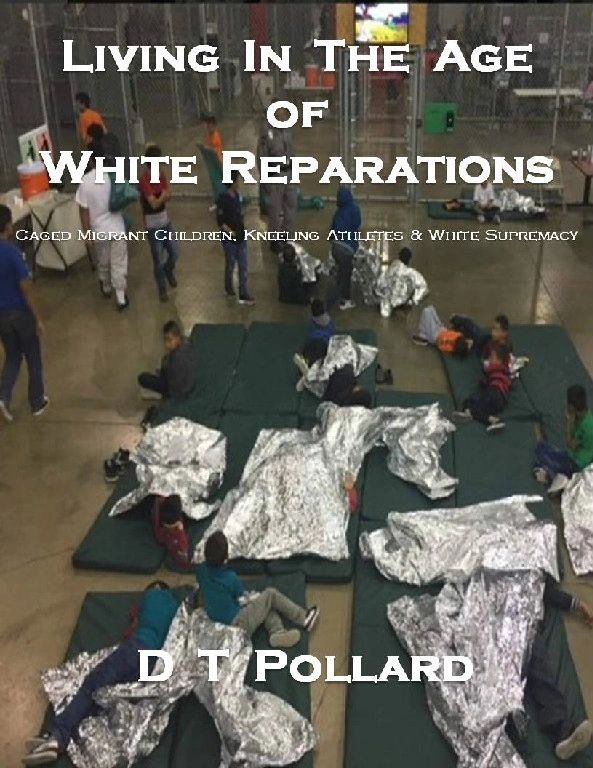 Racial tensions in the United States were simmering and in June of 2018 they boiled over as images began to flow out of the United States of America showing migrant children separated from their parents at the southwestern border confined within metal cages per orders from the President of the United States. Outrage exploded within the United States and around the world, but some were supportive of the migrant family separation policy and fully backed President Trump's tough immigration stance. The migrant family separation crisis was completely manufactured by the President and another in a long line of intentionally created racial and cultural firestorms from the Muslim ban to kneeling football players, but that was the point, massive distractions to mask a carefully thought out plan, White reparations.
The election of Donald Trump was based upon a multiple layered coalition of people desperate for better jobs, those voting their political party line and others attracted to the racist tinge of his message. Anger existed within a segment of the American population that felt marginalized because others had risen at their expense and they wanted conditions reversed to the state when they were on top by default. Those demanding that America be made great again, even if it meant pushing minorities, immigrants and women to the back of the line, wanted payback. Once Trump took office, the real work began to extract reparations and funnel wealth to those deserving to have their rightful perch at the top of the socioeconomic heap, but it was not going where those shouting at his rallies thought when they voted for him.
Ashley Riley was a woman who knew what she liked and she preferred her men Black. Ashley's choice in romantic partners was not something that happened overnight, but developed over the course of her life as she matured from a child into a young woman. Ashley didn't run into the arms of Black men, but she was pushed through rejection from those of her own kind.
Ashley rose from a child living in a rundown mobile home in a field to her new life looking out over downtown Dallas from a window in her high rise condominium. Facing rejection as a child from those deeming her to be unworthy of their friendship because they considered her to be White trash, Ashley found acceptance from a Black classmate who became her best friend. Ashley assimilated into the African American culture and eventually fell into relationships with Black men, but all did not go smoothly.
Given the racial attitudes prevalent in the area she grew up in, Ashley kept her associations with her Black friends a secret, even from her parents, until she meet James Thomas in college. James was Ashley's first true love and the first Black man she introduced to her parents, but after college they parted ways. Fate and circumstances would bring them together years later after heartbreak and they didn't waste a second chance at love. Love, marriage and a child followed.
In the midst of the most blissful period of their lives an unimaginable tragedy struck like a bolt of lightning that changed their world forever.
Kindle - Available on Amazon.com Hardcopy Available Everywhere



Stay woke! The United States is going through one of the most gut wrenching times in the nation's political history. Watergate led to the resignation of President Richard Nixon, but what the nation is enduring now is unique. Donald Trump was elected President of the United States and within short order the country was embroiled in constant turmoil.
Russia interfered in the 2016 U S Presidential election by stealing information from Hillary Clinton's campaign and using it to damage her candidacy. Multiple investigations were opened into Russia's interference in the 2016 election including any possible collusion between the Russians and Trump's team.
Donald Trump took several actions including firing the FBI director who was leading an ongoing investigation into the Trump team. Trump later disclosed secrets to Russians in the Oval Office and possibly asked the FBI director to halt an ongoing investigation into fired National Security Advisor , General Michael Flynn who spoke to Russians about sanction imposed by President Obama and lied about it. Trump is fast tracking hi sway to destruction and like how everything move at an accelerated pace compared to the 1970s. Trump is like Nixon on steroids and a Special Council is investigating Russian interference in the 2016 U S Presidential Election and possible coordination with the Trump team.
Questions of possible obstruction of justice and impeachment were raised, but even in the midst of continuing turmoil, changes were being made that negatively affected the lives of ordinary Americans for the worst!
Stay woke!

Available on Amazon
President Barack Obama won a decisive victory in the 2012 Presidential election over his challenger Mitt Romney. The voting public spoke loudly on the direction they wanted the United States to proceed, but there seems to a political revolt taking place at the state government level. Many Republican governors and other GOP politicians decided that they would go in a different direction than the national electorate and started a political uncivil war to oppose implementing as many Obama initiatives as possible at the state level. The day after President Obama defeated Mitt Romney in the election for President of the United States, an online petition to succeed from the United States arrived at the White House from the state of Louisiana and shortly thereafter succession petitions arrived from all fifty states. While states succeeding from the union are highly unlikely, it does underscores the divide we have in the country even after a decisive election victory by President Barack Obama.
This is a look at something that came up during the 2012 Presidential election campaign between President Obama and Mitt Romney. After Mitt Romney suddenly disavowed several recent policy positions during the first Presidential debate, President Obama called the condition Romnesia. Just how dangerous is Romnesia and what does it mean for America?
In a moment not seen before in American Presidential politics, a candidate for a major political party in the United States was exposed on video saying it was not his job to worry about 47% of the people that paid no income taxes, believed they were owed government entitlements and took no personal responsibility for their lives. Mitt Romney, who was running for President of the United States, then said it was not his job to worry about those people. What would President Mitt Romney's America look like?
Available on Amazon





This is a look into the real impact that the Patient Protection and Affordable Care Act, also know as Obamacare, will have on American and Americans. It turns out that it will help many more citizens pursue what our founding fathers intended.

Available on Amazon







Many of us are stunned and are looking around in wonder at what not only happened to our careers, but how did some industries transform themselves from what seemed like endless seas of opportunities into confined pools. If your job has disappeared or become two sizes too small, you are not alone and it was not an accident. Find out what happened and what you can do about it in, "Who Moved My Ocean – Avoid The Shrinking Job Trap."

Available On Amazon




Is President Barack Obama the most disrespected President in the history of the United States? Instead of debating the subject, let's walk through a chronicle of the greatest insults, slights and falsehoods to come the way of a sitting POTUS in President Obama – Diary of Disrespect.

Available on Amazon


One of the greatest singers of all time, Whitney Houston, departed this earthly realm on February 11, 2012. This is a series of poems to honor her memory.
OBAMA GUILTY of BEING PRESIDENT WHILE BLACK examines how the shadows of oppressive Jim Crow laws played a role in the hate spewed towards the 44th President of the United States. The role of race and gender was front and center during the presidential campaign. How a woman was used as a human shield by the Republicans is also clearly illustrated. Barack Obama received a mandate in the general election. A few months later, it was a curious sight to witness people gathered around town hall meeting sites bearing signs depicting the President as Hitler, socialist or a tyrant. Some even carried guns and a pastor prayed that Obama would die. A Republican Congressman even called President Obama a liar on national television during his health-care speech to a joint session of Congress. There was something much deeper at play with President Obama and it centered on his race. Find out how questions about the President's birth, religion, economic policies and patriotism were all smoke screens for feelings as old as the United States itself.